Zanzibar Vacation
For centuries, the historical Spice Island of Zanzibar has evoked a mystical and magical dream…
Zanzibar is the ultimate Indian Ocean experience, with its fascinating historical Stone Town and magnificent beaches.
The Guide Safari aims to reveal more of what's on offer, and contains lots of useful, accurate and up-to-date information for visitors, including accommodation, maps and information on our fine weather.
With The Guide Safari, you can learn more about this island paradise, and plan an unforgettable holiday online.
Zanzibar's Indian Ocean offers world class watersports including scuba diving, snorkeling, deep sea fishing, kayaking, windsurfing, waterskiing and sailing on traditional local dhows.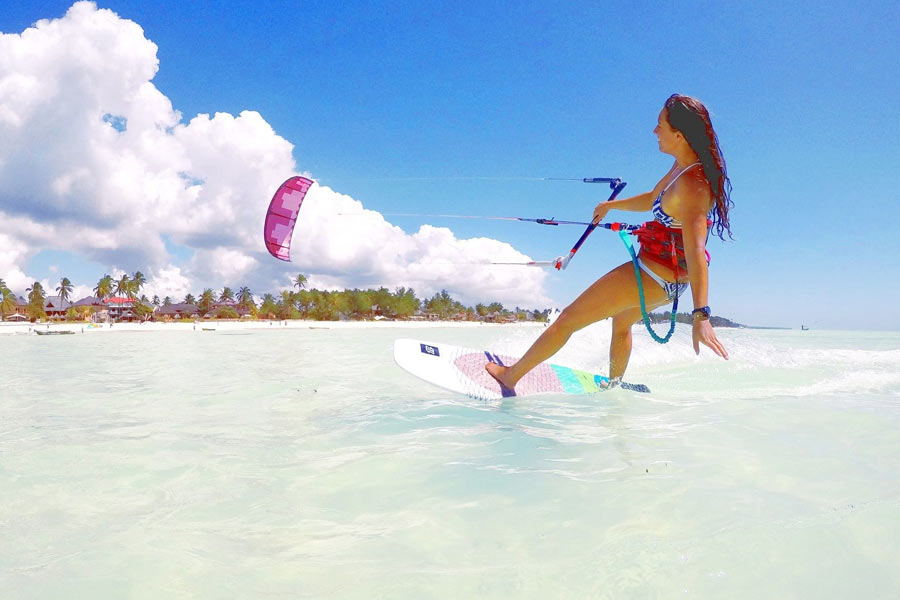 Zanzibar Activities
Where else in the world can you walk down a street passing Portuguese, British, Arabic, African, and Indian old buildings while all the while seeing, hearing, and smelling the sights, sounds, and smells of the bustling bazaars and restaurants? Where else it is possible to walk from a 15th century Portuguese fort to an 18th century Omani palace to a 21st century harbourside restaurant?
It's this and so much more than make Stone Town a must-see on any visit to Zanzibar.
Zanzibar Island Diving
As mentioned in our intro paragraph above, Zanzibar is not really somewhere that we tend to recommend to clients who would like to do anything more than a few dives as, with limited inner reef, there is not a whole load of different options. This being said though, please see our review of a few of the major dive areas below: Mnemba Island – a great dive destination for those that are strating out as this small atoll has a shallow wall dive down to around 18 meters with a sandy bottom. The coral cover here is very acceptable and, with some of the island's best garden reefs, it is also possible to combine with an afternoon of snorkelling easily enough. Kizimkazi Reef – arguably the only really good dive location on the island is right down in the south, right next to Unguja Lodge. This area is part of an inner reef system that runs out to the barrier reef which, as you are south facing, is not as deep or as complete as along the southern edges of the island. While the property doesn't really have any beach to speak of, this is certainly a good contender for those that would like Zanzibar and some diving. Off Stone Town – another interesting area to dive is off the western side of the island. While not reef diving as such, this inner channel, between Zanzibar and the mainland, has plenty of sunken wrecks to go and have a look at. As this is channel diving, there is slightly more current to contend with. Recommended Properties: Mnemba Lodge, Unguja Lodge, Ras Nungwi, Echo Beach Hotel
This forest is one of the last remaining sanctuaries in the world of the red colubus monkey.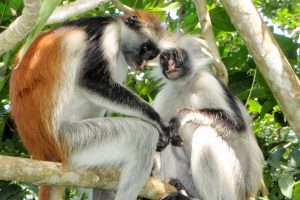 The forest is 2,512 hectares (6,207 acres) in size and was declared a nature reserve in the 1960′s. Wonderful photo opportunities and sightings of these rare creatures living in the forest reserves are possible on the pathways. Our guides are also naturalists and nature lovers will have a wonderful time in the nature reserve. They were an endangered species, but numbers have increased in recent years thanks to conservation work by the nature reserve working closely with the local people. It is estimated that there are now between 2,000-2,500 monkeys. The monkeys are wild, but it is possible to get close to them and they carry on their normal activities as though human visitors do not exist. The elusive Zanzibar leopard (last sited several years ago) is said to feed here at night – perhaps this is why the reserve is only open during the day?! Jozani has an excellent nature trail and the guides are well trained and informative. A walk through this impressive flora and fauna is one of the highlights Zanzibar has to offer. At Jozani, you will also visit the Mangrove swamp and walk around the Mangrove forest. The half-day trip includes the transport, entrance fee (8 US$) and the guide. It is easy to combine this trip with the Jambiani Village Tour or the Spice Tour.
Prison Island also known as the Changuu Island lies about 30 minutes by boat from the Zanzibar Island. The prison thereon was never used to house prisoners. The Prison Island Tour (Zanzibar) will take you there. The island was once used by an Arab slave trader to contain the more troublesome slaves he had brought from the African mainland to prevent their escape before shipping them to the Arabian purchasers, or for auctioning in Zanzibar slave trade market. The slaves were dumped on the island. The old prison still remains standing, providing shelter for some of the giant tortoises which can now only be found on this island, and the cells.
The Safari Blue excursion offers full day sailing around mangroves and snorkeling along some of the best coral reefs Zanzibar has to offer followed by the best seafood barbeque you will ever have and an exotic fruit tasting session. Suitable for beginners and more experienced snorkelers alike and should be on everyone's 'must do' list. This trip can be done from anywhere although it departs from Fumba in the south west. (road transfers are provided) If you would prefer a less structured day then head to Matemwe. The snorkeling around the world famous Mnemba Island is amazing. Need more info? Please contact our Zanzibar Experts now, or visit our Safari Blue page.
Mnemba Island is an atoll set just off the northeast coast near Matemwe. Diving at Mnemba is stunning, on the inside it's like being in a giant aquarium and the outside offers excellent wall and drift dives. The island itself is a breeding ground for turtles and they are often seen gliding by along with dolphins, huge schools of fish, whale sharks and humpbacks when in season.
For those interested in culture and history, no trip to Zanzibar would be complete without a tour of a traditional spice farm. Over the years Zanzibar has been one of the largest exporters of cloves and other spices and has been used as a welcome stop over for the many merchants exploiting the trade winds on route to India.
Zanzibar offers a unique opportunity to track and swim with one of the oceans most captivating creatures. This is a truly magical experience that will stay with you forever. Each morning the local pod of dolphins wake from their overnight spot in Menai Bay and prepare themselves for the day ahead, playing with the tourists is just part of their morning routine. This trip can be done from anywhere as long as you are prepared to travel to the south coast. If you would prefer to be nearby we would recommend Unguja lodge
Kite surfing has been a growing sport for some time and now Zanzibar has caught up. I imagine there are few places as magical as Zanzibar to practice however I need little excuse. Kite Surfing is immensely fun, hugely addictive and incredibly exhilarating. Sessions can be arranged at all levels from your first time up.
* Equipment can be provided.
* Kite Surfing centres are located in the north at Nungwi and on the east, near Paje and at Matemwe.
If all the above sounds like too much like hard work then why not book yourself some serious 'me time' and enjoy one of Zanzibar's world class Spa facilities found in some of Africa's best boutiques and resorts. Fine food, excellent wine and glorious weather will complete the experience and leave you deliciously indulged.
Breezes Beach Club and Spa
For a luxury Spa retreat we would recommend Breezes, Baraza or Kilindi.
Zanzibar is in the Indian Ocean and near the equator which makes for a very warm and generally month-by-month similar climatic conditions. The island has 25 beaches, interspersed with fishing villages and all backed by appropriately tropical palms or mangroves and fronted by the warm, azure waters of the Indian Ocean. The beaches are mostly huge white strands of sand occasionally garbed in seaweed (in fact seaweed is cultivated here); Zanzibar's best beaches are on the north and east coasts; best snorkeling too. On the southern tip of the island, Kizimkazi fishing village is close to several schools of bottle-nosed dolphins which can often be seen and perhaps swum with after a short boat trip from the village.
Sometimes there is nothing better than nothing. We spend so much of our time running around chasing the day at home and why would you want to do the same whilst away. Sometimes all you want is a good book and fantastic beach on which to chill out and unwind. Zanzibar is the land of the laid back and after a few days you're guaranteed to slip into Zanzibar time.
Reserve your spot now.
[quform id="3″ name="Zanzibar"]